Weekly News 15th September

21 Braiswick, Colchester, CO4 5AU
Tel: 01206 853396 Website: www.colchestergolfclub.com

Please check the tee sheet before arranging to play
Best of luck to our Youth Shield team who are playing in the Scratch Final against Romford this Sunday at Crondon Park. The team is Ed Mason, Oliver Baker, Mason Barningham, George Woodhead and Rufus Cock. The first tee time is 10.40am.
All support is welcome and we hope for another fantastic performance from our young golfing stars.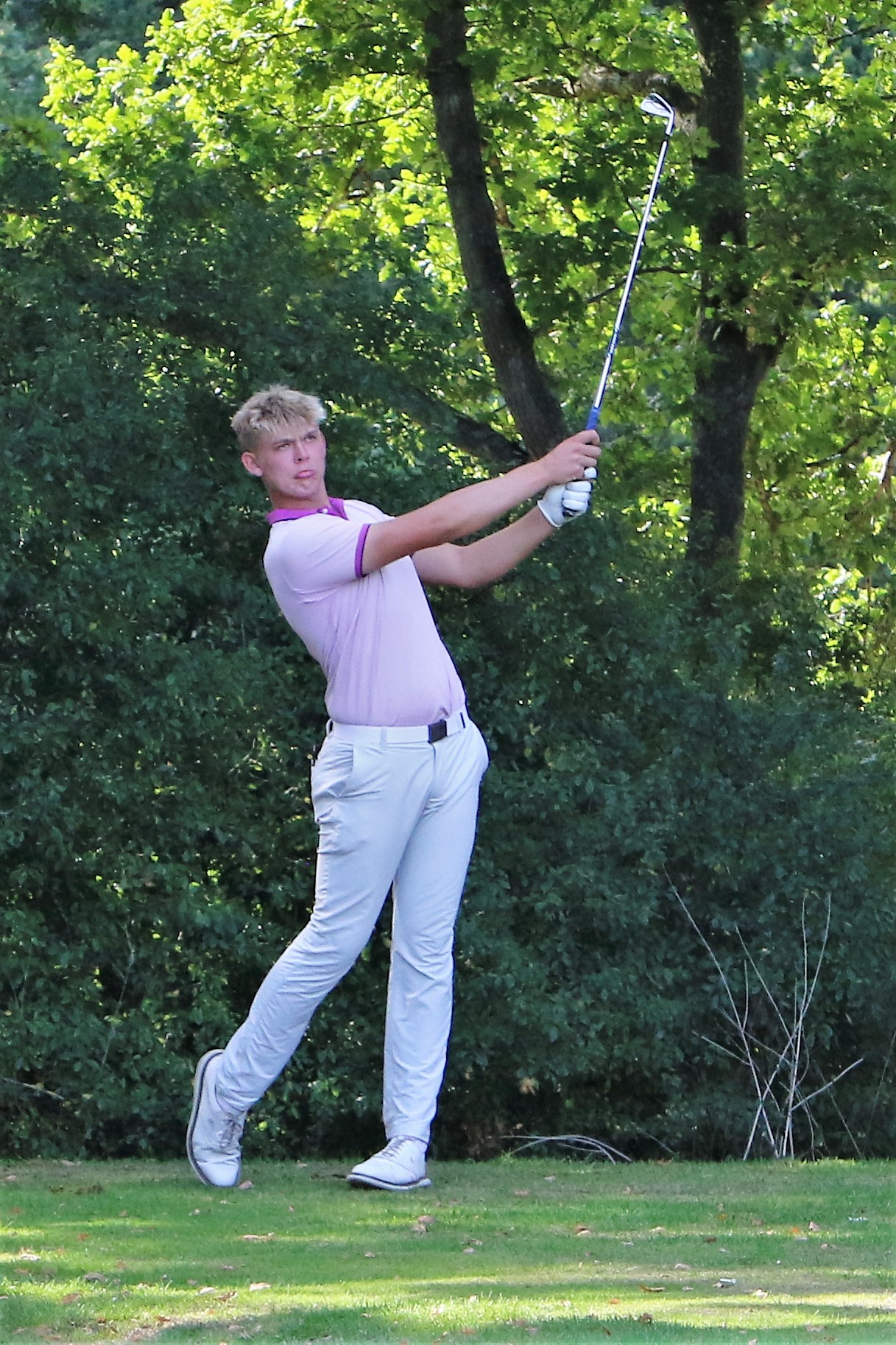 It will be a busy weekend for Ed Mason who qualified for the England Champion of Champions Event at Woodhall Spa on Saturday 16th September with his win at the Essex Boys Championship earlier this year. Ed is representing not just the club but the whole of Essex and we wish him well! You can follow his progress here.
Good luck to Dave Humberstone who is playing in the Essex Matchplay Final this weekend.
A reminder that general play scores should only be attested by playing partners and cannot be submitted when playing alone. Please use the IG app for rounds completed at CGC.
---
Course News
Greens Maintenance Update
12 months ago, and with a cautious eye on plant health conditions at the time due to the extremely dry weather, I reported to the club a number of factors contributing to poor surface conditions, inconsistent performance, and an increase in stressed conditions. This was underpinned by a soil analysis and a separate organic matter analysis taken at my request by NRM, an independent agronomic service provider.
The organic matter results as previously reported at the time and throughout the subsequent year highlighted a crucial need to change some of the practices that we undertake and increase drastically other procedures on a more frequent and consistent basis. The soil analysis allowed me to refine and target a specifically focused regime of nutrition, growth regulators, soil surfactants and plant health related applications to enhance sward coverage and surface performance. As stated, this was the beginning of multi-year programme to ensure that we work towards the best possible playing surfaces, that remain consistent and playable for as much of the year as conditions allow.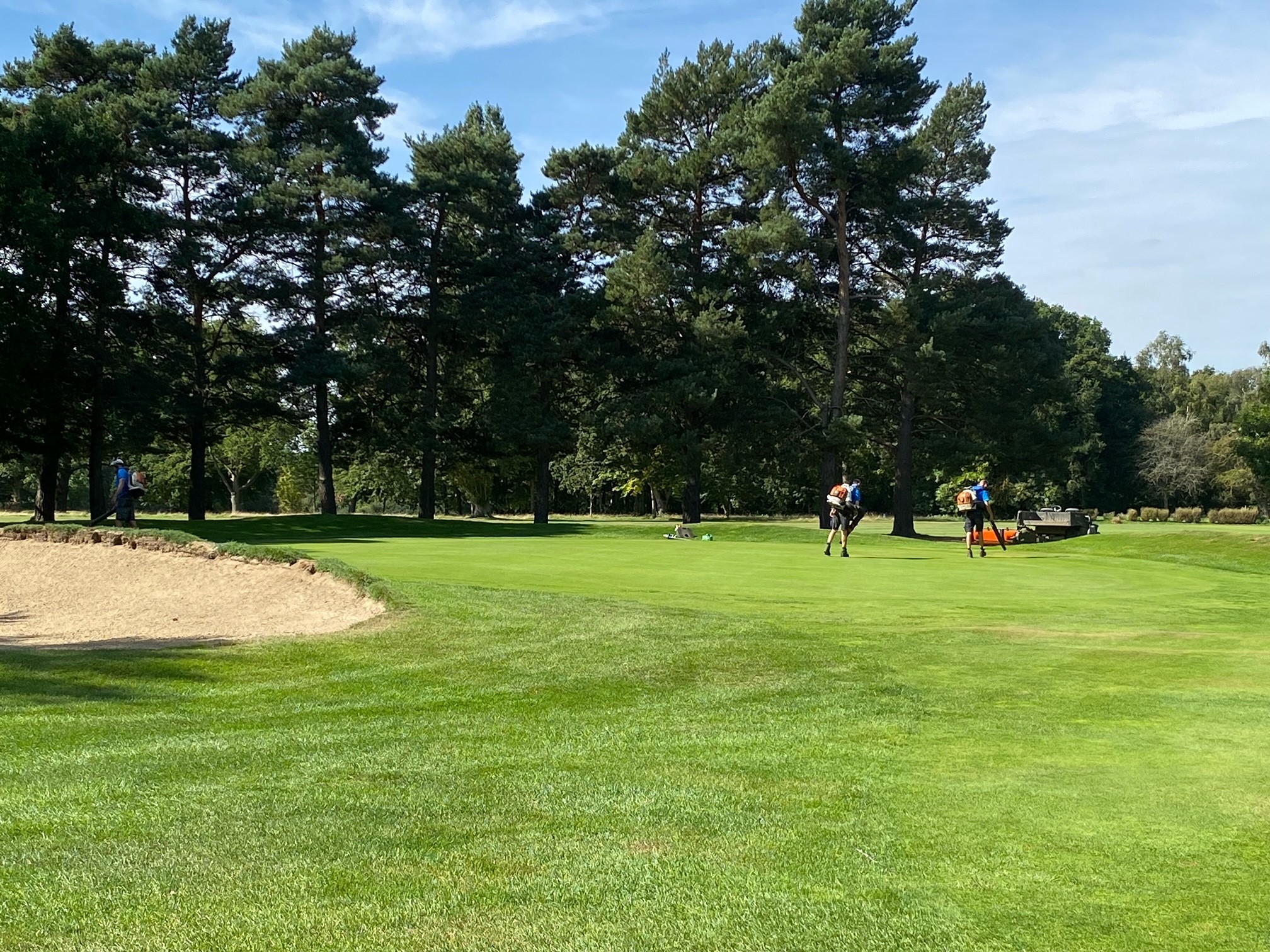 This week's greens maintenance programme was another extremely important stepping stone in that process and the removal of tonnes of organic matter and the incorporation of 16 tonnes of kiln dried fendress rootzone will undoubtedly result in firmer greens surfaces with increased drainage capacity. This also gave us the opportunity to overseed with 40kg of pure browntop bent grass to provide a superior plant for surface performance long term and an application of K-step 6,0,27 fertiliser that will aid with recovery.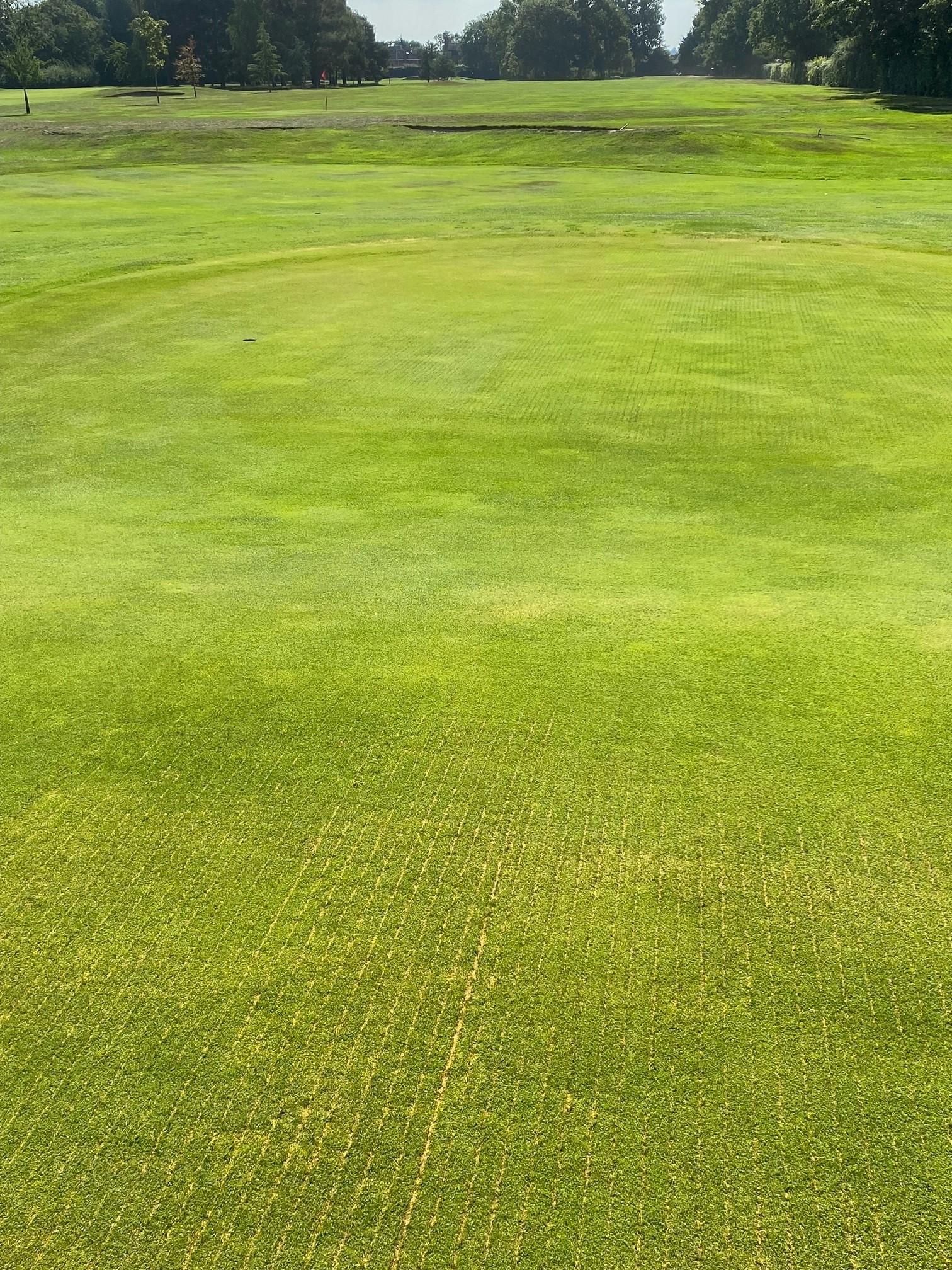 The work was carried out in a very efficient and professional manner by the contractors and staff alike, and 20 greens had been scarified, sand filled, brushed and cleared with greens returned to full play by around 13.30pm. Surface conditions in the initial aftermath were undoubtedly disrupted due to the aggressive nature of the procedure and the volume of undesirable material that was removed, as a result some minor localised damage to weak areas has been evident and addressed, this is to be expected and again highlights the need to carry out the work. The recovery is beginning to take shape now though and following the overseeding, nutrient applications, and some much-needed irrigation the surfaces are improving with the regular use of the turf iron helping with surface trueness. We should start to see results of seed germination in the next few days and the current temperature will help growth to aid with full recovery.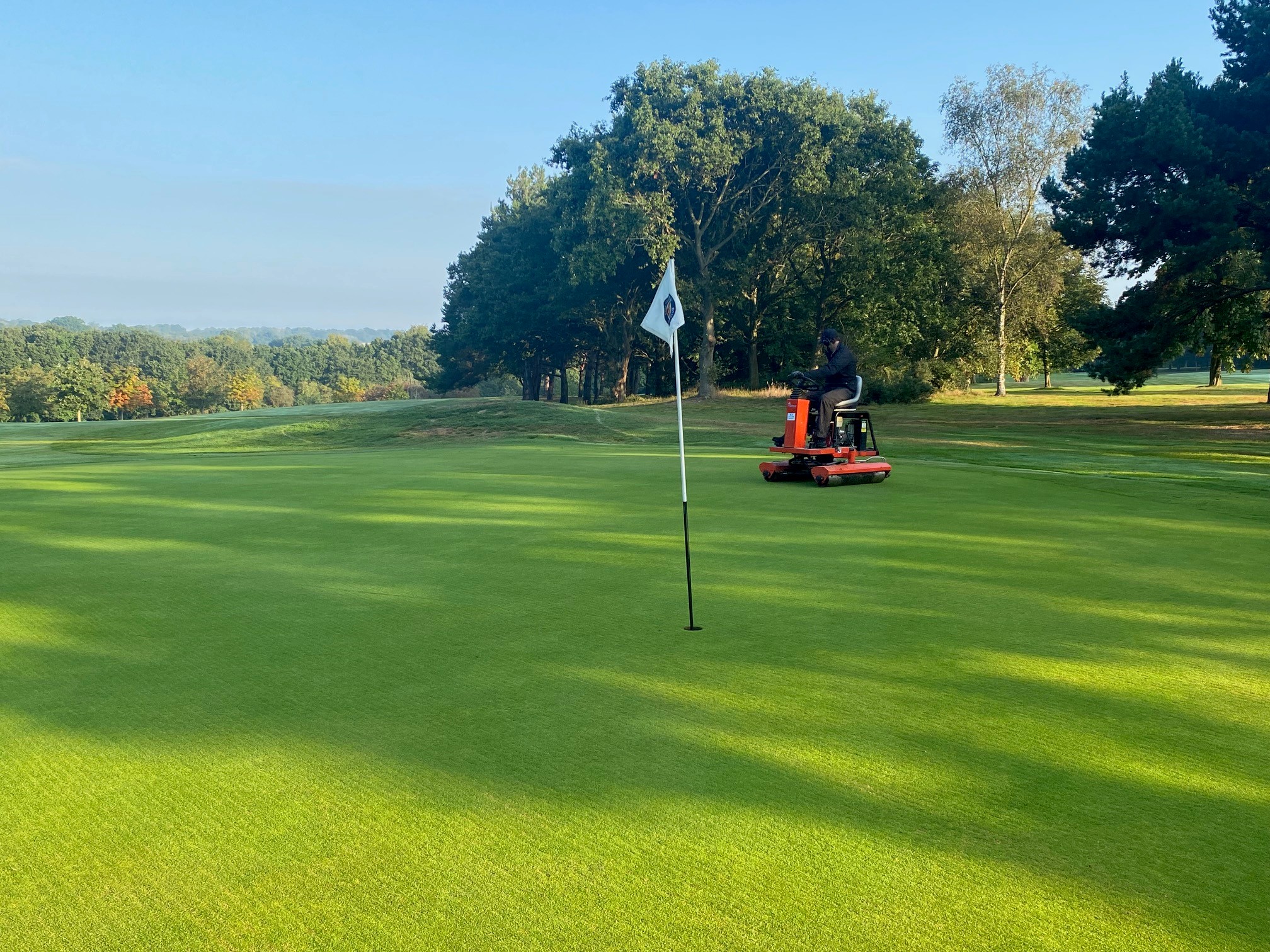 As always I completely understand that any level of surface disruption to greens during the playing season isn't tremendously well received, however we rely heavily on the environmental conditions to aid us with our works at this time of year, in addition our intention is to minimise disruption as far as reasonably practicable but the importance of the work we undertake is paramount to ensuring playability long term as evidenced last year where we were able to provide main greens with the exception of the 15th for most of the winter season.
Thank you for the support and understanding, it will continue to be required as we strive to reach our goals.
Please enjoy your golf
Kind regards
James Rattenbury
---
Social & Hospitality News
We have many exciting Social Events coming up starting with the Quiz Night on Thursday 28th September. It is in teams of 6 with tickets booked online at £10.00 per person. A supper of lasagne, chips and garlic bread is included to help recharge your brain at halfway!
Ryder Cup Weekend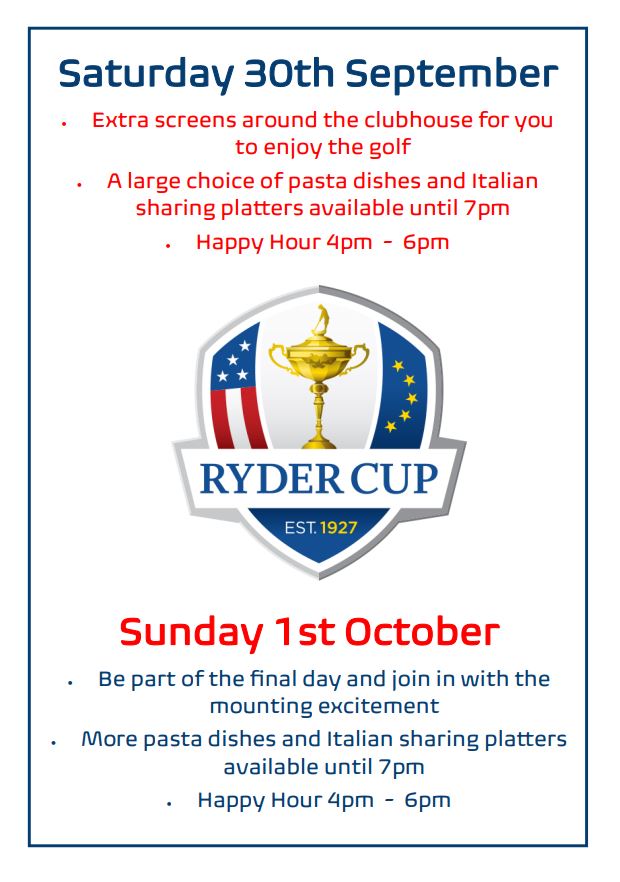 Tony hard at work preparing a delicious meal for the Ladies Committee Lunch today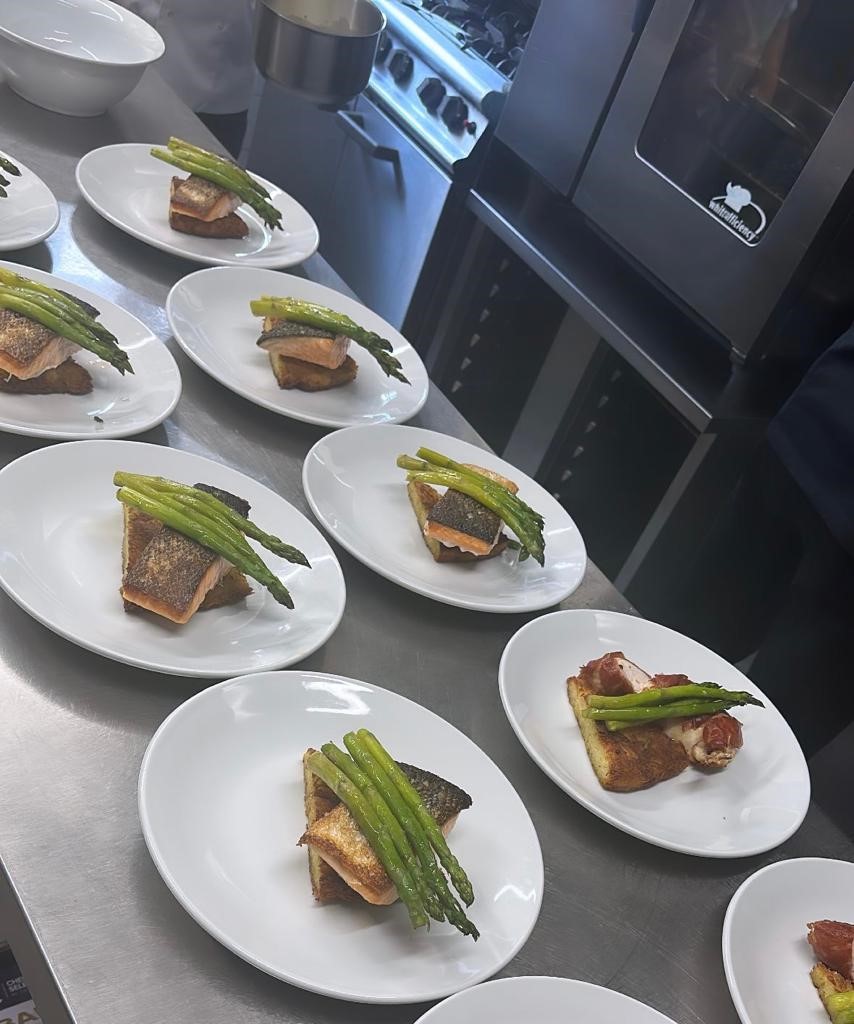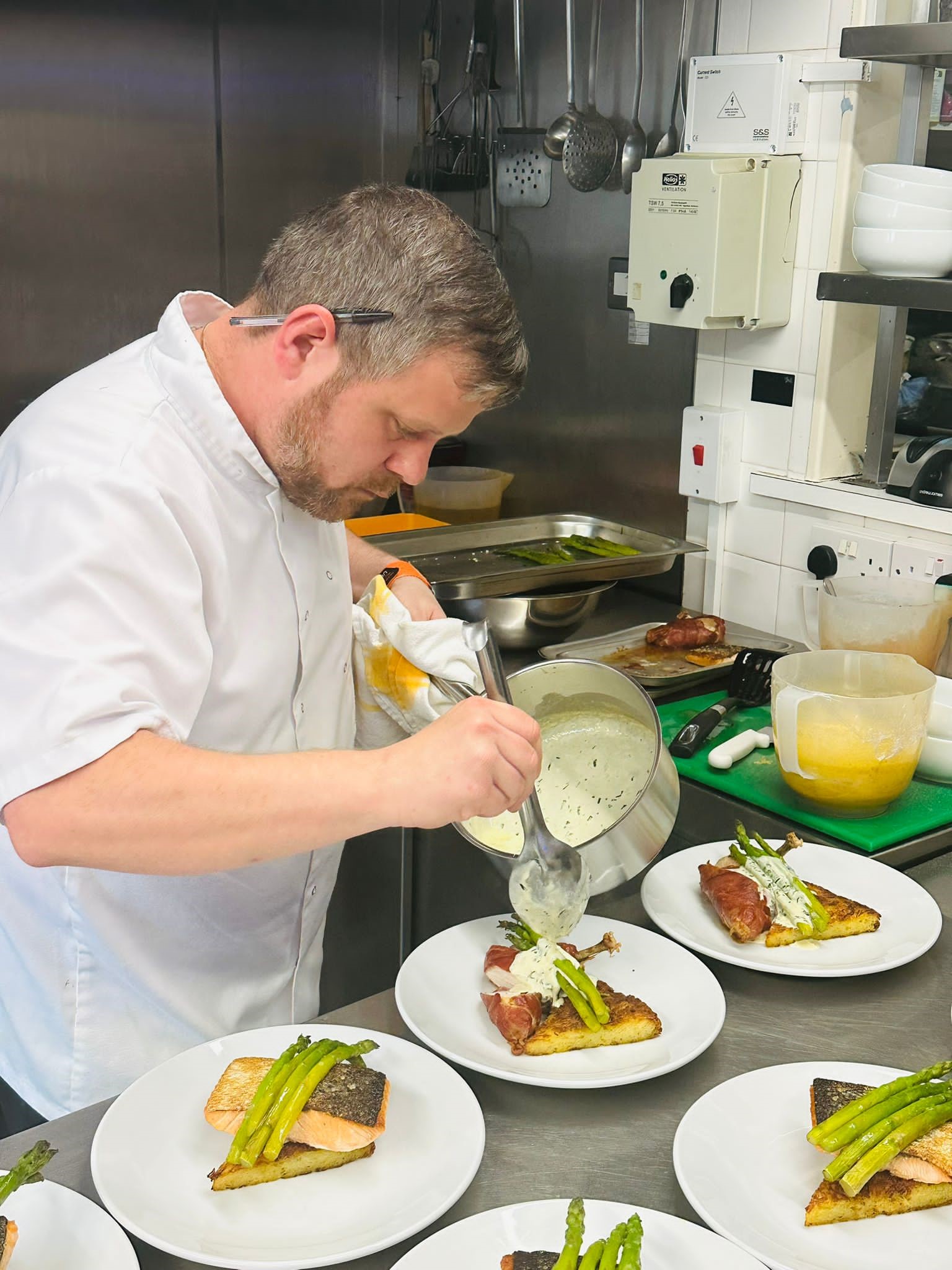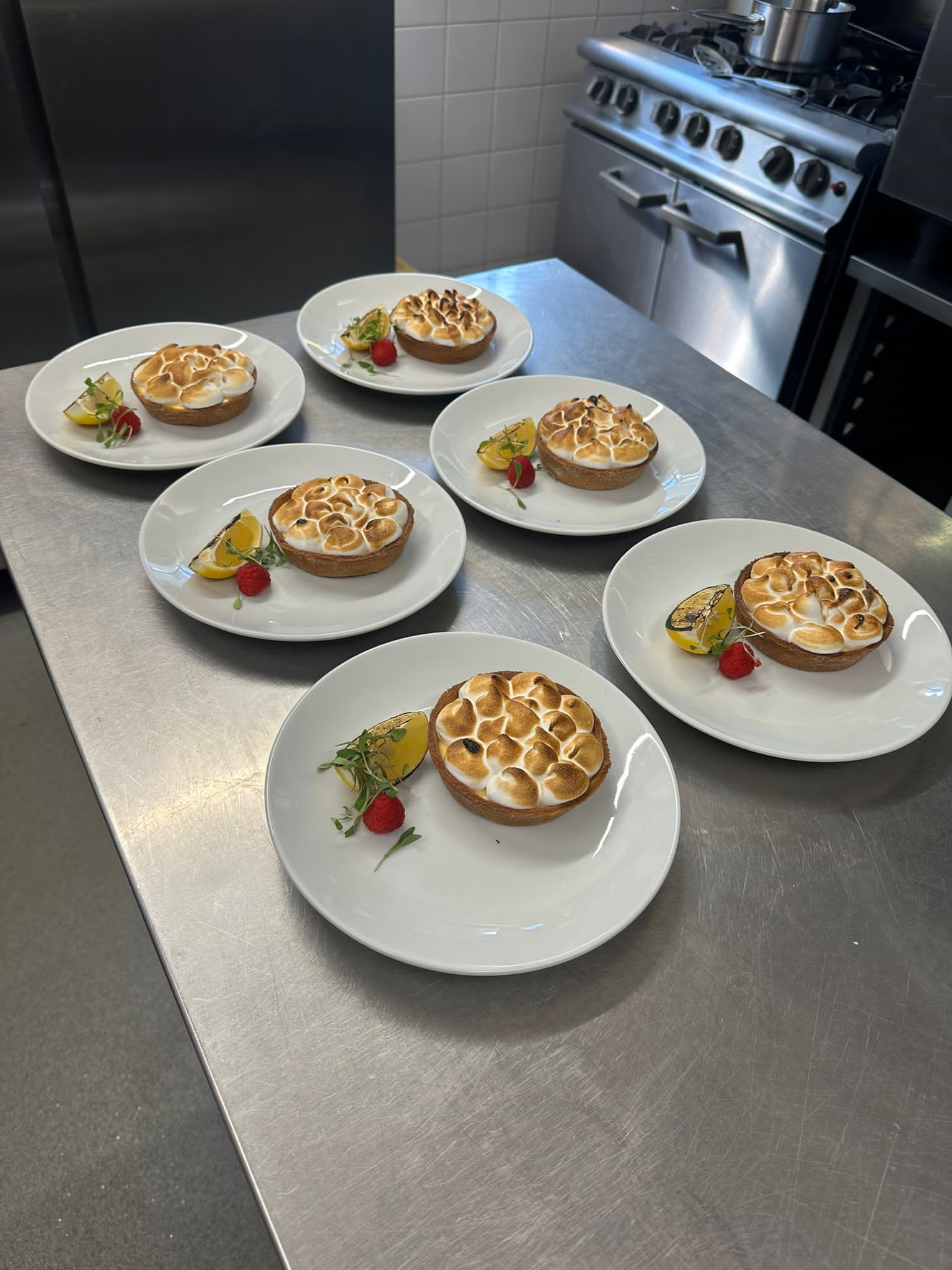 ---
Competitions Update
Romford Trophy
In last week's Romford Trophy our elite golfers made a marked impression.
Played over two rounds at Romford Golf Club, 72 of the County's best golfers locked horns in what was to prove a tight competition.
Ed Mason produced the best round of the day with a gross 65, six under par, to head the field at the halfway stage. He was followed in by plus six golfer, and England amateur international Orsett's Zachary Chegwidden who returned 66.
Third spot was taken by Bailee Curran, also from Orsett with Oli Baker lying in 6th place with a 67, Olly Allison scoring 68 to be in 8th spot and Mason Barningham, next year's Junior captain in 15th on 71.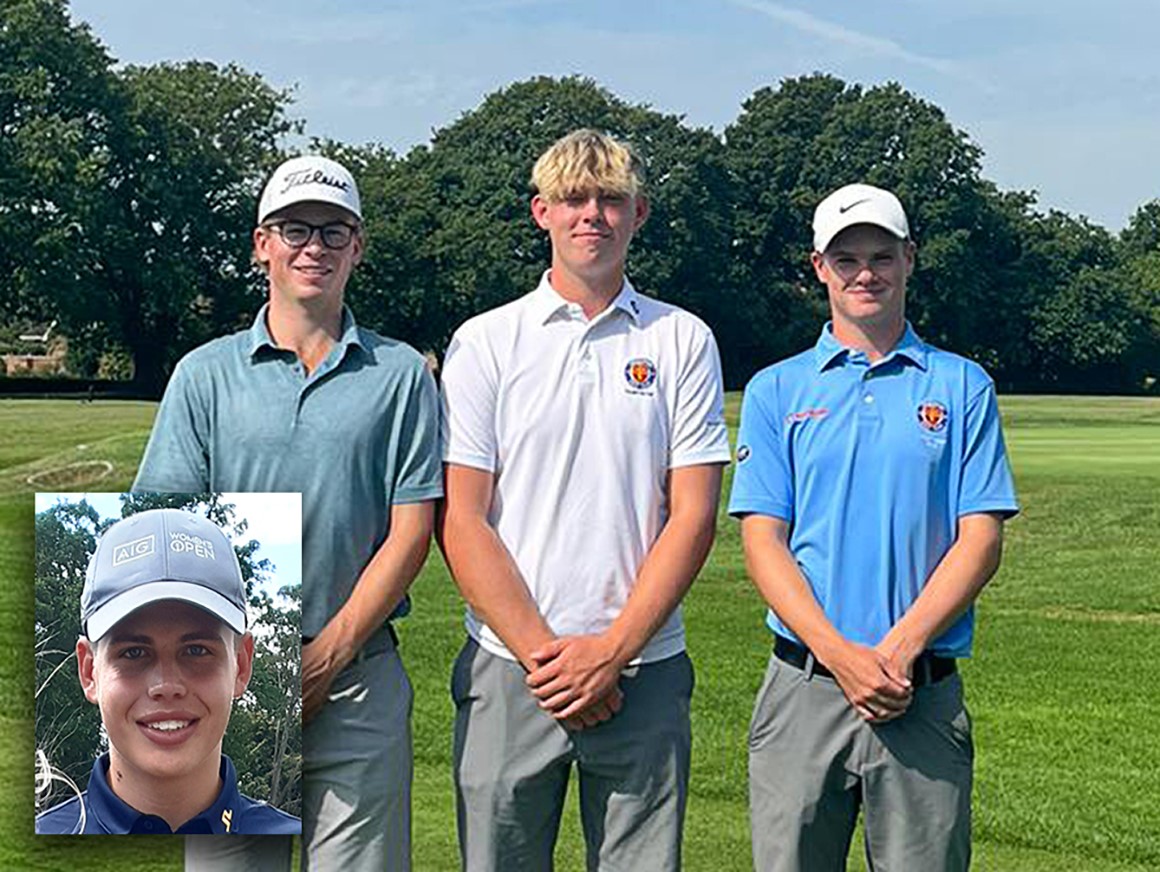 The afternoon round from Mason was a one under par 70 to give him a seven under par total of 135. Mason was pushed down to third when Curran recorded a 68, but, repeating his mornings round of 66 Chegwidden secured victory and the Romford trophy for 2023 with a ten under par score of 132.
Tom also repeated his round of the morning to take fourth place on 136 whilst Baker's round took him to 7th spot. Mason with two rounds of level par secured 16th place.
Alan Sharrocks
On Sunday, Alan Sharrocks, a well-established player and previous Club Champion was given his debut call for the Essex County team and helped the county win in their match against Bedfordshire. Alan won both his morning foursomes and afternoon singles matches.
Bill Anslow clinched the inaugural Elizabeth Cup at the weekend.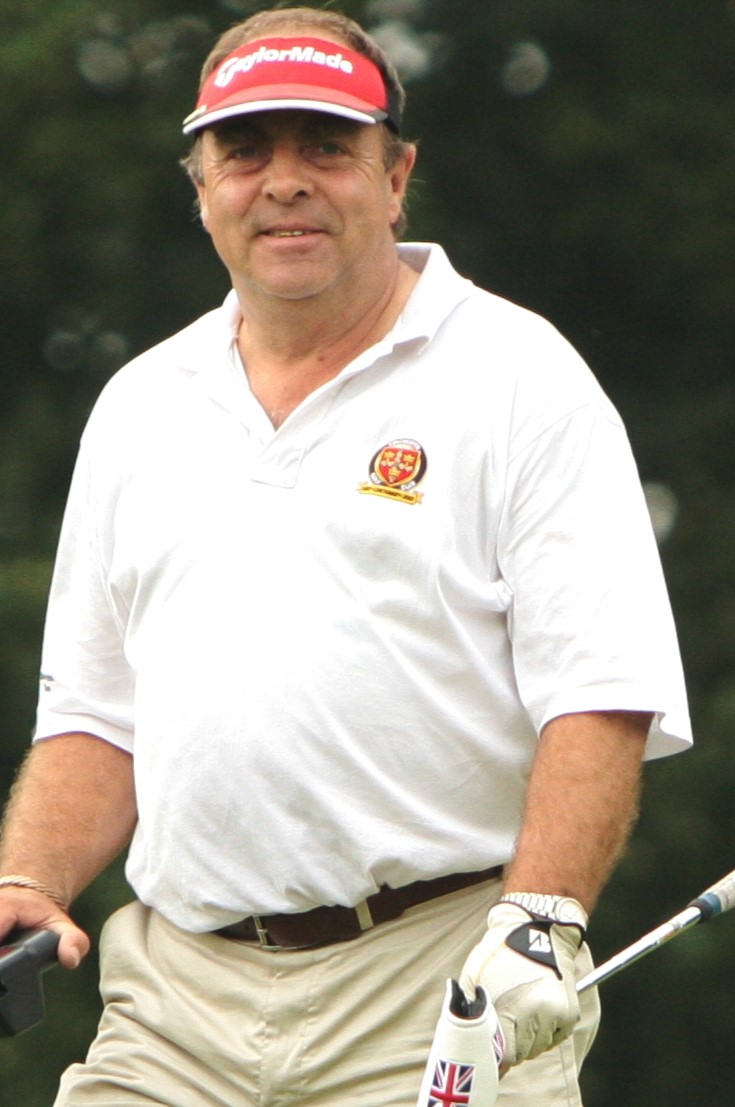 Scoring 42 points Anslow from his 17-handicap he played handicap golf on the front nine, but on the back nine he played the half round of his life collecting 24 points to nudge clear of the field.
There were three players hard on his heels with 41 points. Sam Southernwood (10) continue his fine golf of recent weeks and got the nod after the countback over Sally-Ann Angel (27) and Mick Potter (9).
Sunday dawned with the infamous Rabbits Cup alongside the Intermediate Cup and a Medal. The Rabbit's Cup was claimed this year by twenty handicapper Terry Hills who scored 68 nett. Hard on his heels with 69 nett was fellow twenty handicapper Andrew Everett,
In the Intermediate Cup, twelve to nineteen handicaps, Philip Davies (19) triumphed with a nett 68 with Dick Bokenham (14) chomping at his heels with a nett 70.
In the Medal Ian Parry (9) surfaced on top after a countback from Brendan Booth (8) with the ubiquitous Sam Southernwood, now off a nine handicap, topping the 70s nett.
After a great run in the Curry Cup Colchester's team fell at the final fence to Stowmarket.
The final was played at the neutral venue of Haverhill Golf Club. The team lost the mornings foursomes four matches to two and the afternoon singles 8/4. Not the end captain Iain Cruickshank was hoping for in his last year with this team.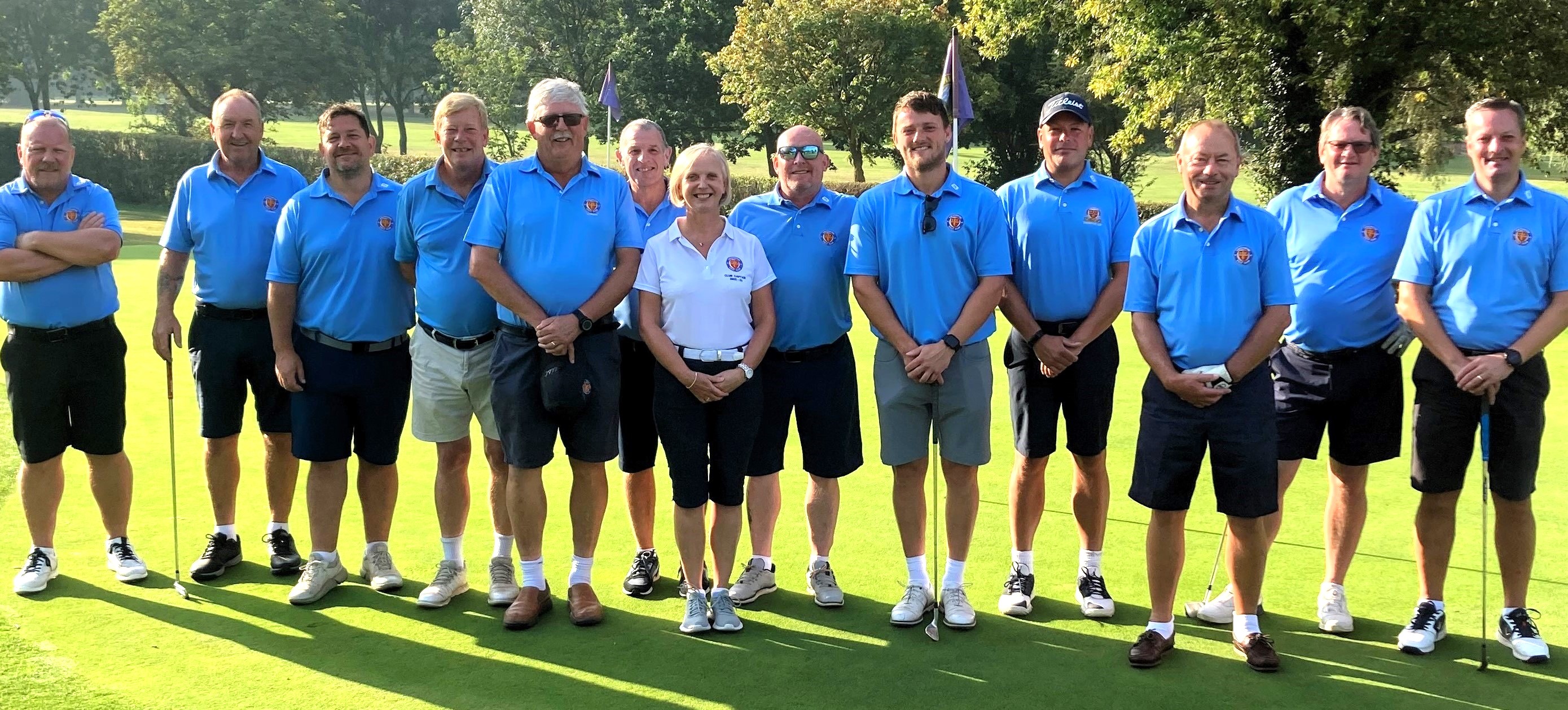 ---
Upcoming Competitions
Winter League 2023
This Fourball Betterball pairs competition is open to men and juniors, who must play with an adult. Pairs are drawn in groups initially with qualifiers progressing to knockout matches from February onwards. Play by dates will be communicated prior to the draw. Matches can be played on any day if agreed but sign up is for a Saturday or Sunday league. There will be a maximum of 12 pairs in the two Saturday groups. As previously, tee times will only be available to book on a Sunday. Entries will open on Monday 18th September and close on Friday 13th October. At least one player from every pair must make themselves available to attend the Supper and Draw on Friday 20th October. If neither of you is available, then a representative must be appointed to attend the draw and arrange matches in your place. The draw will take place following the meal. Their name should be communicated to the office in advance. Pairs who are not present for the draw and do not nominate a representative will NOT be entered into the draw. The rules can be found here, the home page of members area of the website and in the mens changing room.
Paxman Trophy - Saturday 23rd September
This mixed foursomes competition is open to any combination of men, ladies and juniors who must play with an adult. Played from the white and red tees and the men's scorecard. Maximum playing handicaps are 24 for men, 30 for ladies and 18 for juniors. Sign up is open now.
500 Club Stableford - Sunday 24th September
This competition is open to all 500 Club members with tee times available to book online now. If you would like to join the 500 Club, please contact Simon Rippingale.
Hodson Trophy - Saturday 30th September
This team event features a man, lady and junior playing together with tee times from 12.00pm.
Medal & Medal Winners Cup - Sunday 1st October
This is two competitions in one - both open to full male members and juniors who must play with an adult. Both are played from the white tees and men's scorecard, men have a maximum playing handicap of 28 with juniors at 18. The Medal is open to men and juniors. The Medal Winners Cup is open to gentlemen members who have won or finished second in a weekend Medal or Stableford / Boarded Competitions (the list is in the mens changing room). The winner of the Medal Winners Cup is determined by the highest placed eligible player in the Medal results list. Sign up is open now.
Stableford - Sunday 8th October
Open to all 7 days men and lady members as well as juniors. Played from the white and red tees with no playing handicap restrictions. Sign up is open now.
Vets Jack Halls Trophy - Monday 9th October
Sign up is now open for this year's Jack Halls Trophy. Open to all men aged 60 or over on the date of the competition. It is an individual stableford played from the white tees and is followed by lunch along with the Vets AGM and annual trophy presentations.
Moy Cup - Sunday 15th October
Traditionally the last individual Sunday competition before the start of the Winter League, the Moy Cup is the oldest club competition having first been played in 1910. The trophy was presented by CT Moy who was the first Club Captain, he was a coal merchant and early winners received a bag of coal as a prize! It is the only individual competition played as Medal against par so competitors are playing matchplay against the course. It is open to full gentlemen and juniors with a maximum playing handicap of 22 from the white permanent markers. Randomly drawn, players put their names down against a zone with the draw being carried out by the pro shop in advance. Sign up opens on 17th September.