Weekly News 19th May

21 Braiswick, Colchester, CO4 5AU
Tel: 01206 853396 Website: www.colchestergolfclub.com

Please check the tee sheet before arranging to play
Please can all members prominently display the current club bag tag and sticker when out playing - these can be collected from the office.
---
On Tuesday 23rd May, a section of the car park will be cordoned off for maintenance work during the morning.
---
Please ensure you park sensibly in the car park, taking up only one space.
---
All those playing in the Centenary Medals on Sunday, please be aware of the road closures in Colchester due to the half marathon event.
---
Men are needed for the friendly match at home to Frinton on Thursday 8th June.
Meeting at 11.00am for brunch and teeing off from 12.00pm. The cost is £10.00 per person. Please sign up on the main noticeboard if you are available to play.
---
Course News
Please remember to repair your divots and pitchmarks and take a bag of divot mix out when you play. This is our course and let's do everything we can to keep it in such good condition.
---
Greenkeepers Report
Another period of sustained growth on the golf course following last week's substantial rainfall and some consistently warm daytime temperatures has ensured the focus of attention has been to the mowing of all our surfaces. The rate of growth has been a challenge to keep up with and the moist conditions caused by early morning dew have resulted in lots of surface debris following mowing practices. Efforts have been made to blow, sweep and clear surfaces as effectively as possible, and attempts to mow as many areas as possible in dry conditions have helped with presentation.
An increase in temperature and improved growing conditions have continued to present opportunities for renovation and overseeding works as we look to improve plant coverage across all playing surfaces. There have been encouraging signs of growth and recovery to many of the tee surfaces as well previous areas of GUR/NPZs.
Remedial work has been carried out to the grass mounding and infilled bunkers on the 10th, 12th and 15th holes. The areas have been Terra-Raked, to remove a volume of thicker undesirable grass and plant species, dressed with a high sand content rootzone material, and overseeded with a mix of fine fescue to continue our attempts at producing a finer, wispier sward.
The practice green has also had further remedial work carried out with an overseeding of ultrafine rye grass, and applications of topdressing applied. The moss levels have been effectively treated and given the encouraging signs of recovery in other areas of the course I am hopeful the green will continue to improve.
The Driving Range tees have been relocated onto the grass area to provide more natural practice conditions, accommodate more people, and give the artificial mats some needed rest to reduce wear. Please use the rootzone mixture provided to repair divots.
Please enjoy your golf
Kind regards
James Rattenbury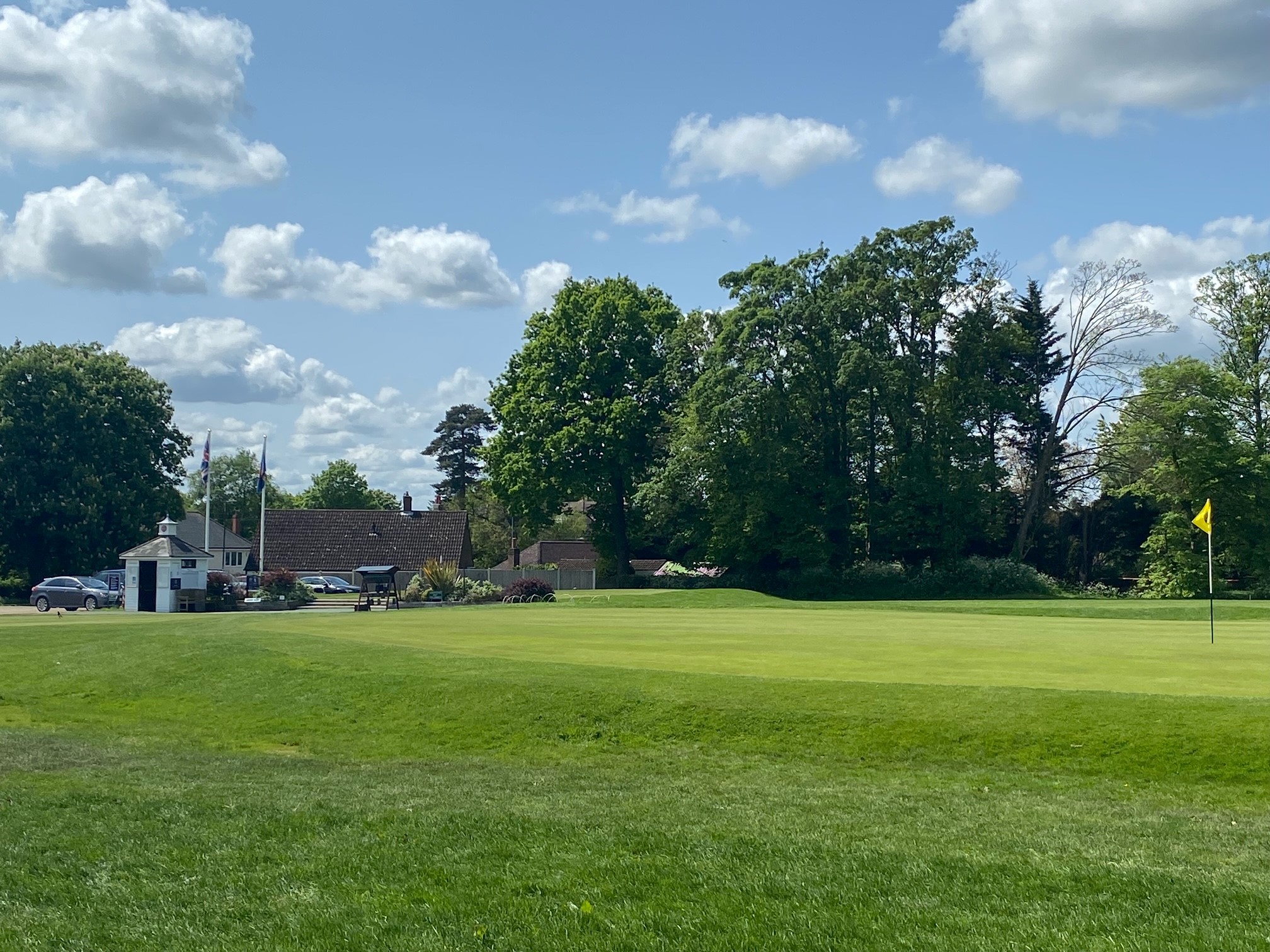 ---
Social & Hospitality News
Bank Holiday Barbecue!
Even if you are not playing in the Jean Ingleton Salvers on Bank Holiday Monday 29th May, join us for a fabulous barbecue on the patio. Enjoy a mixed platter of Chicken Kebab, Pulled Pork Slider, Cumberland Ring, Handmade Coleslaw & a Selection of Salads for only £20.00 per person. Sign up is on the main noticeboard.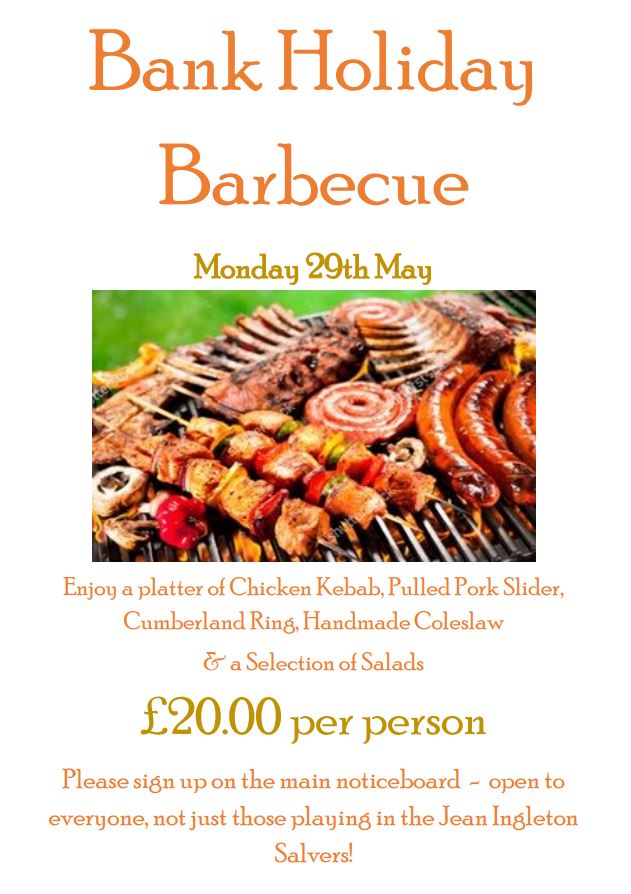 Begin the long weekend in style with Fish & Chips here on Friday 26th May - there are still spaces to book!
---
Competitions Update
Ladies Silver Trophy team vs Epping
Beating Epping five matches to nil was a resounding victory for the team who go onto host Chigwell next week in their league.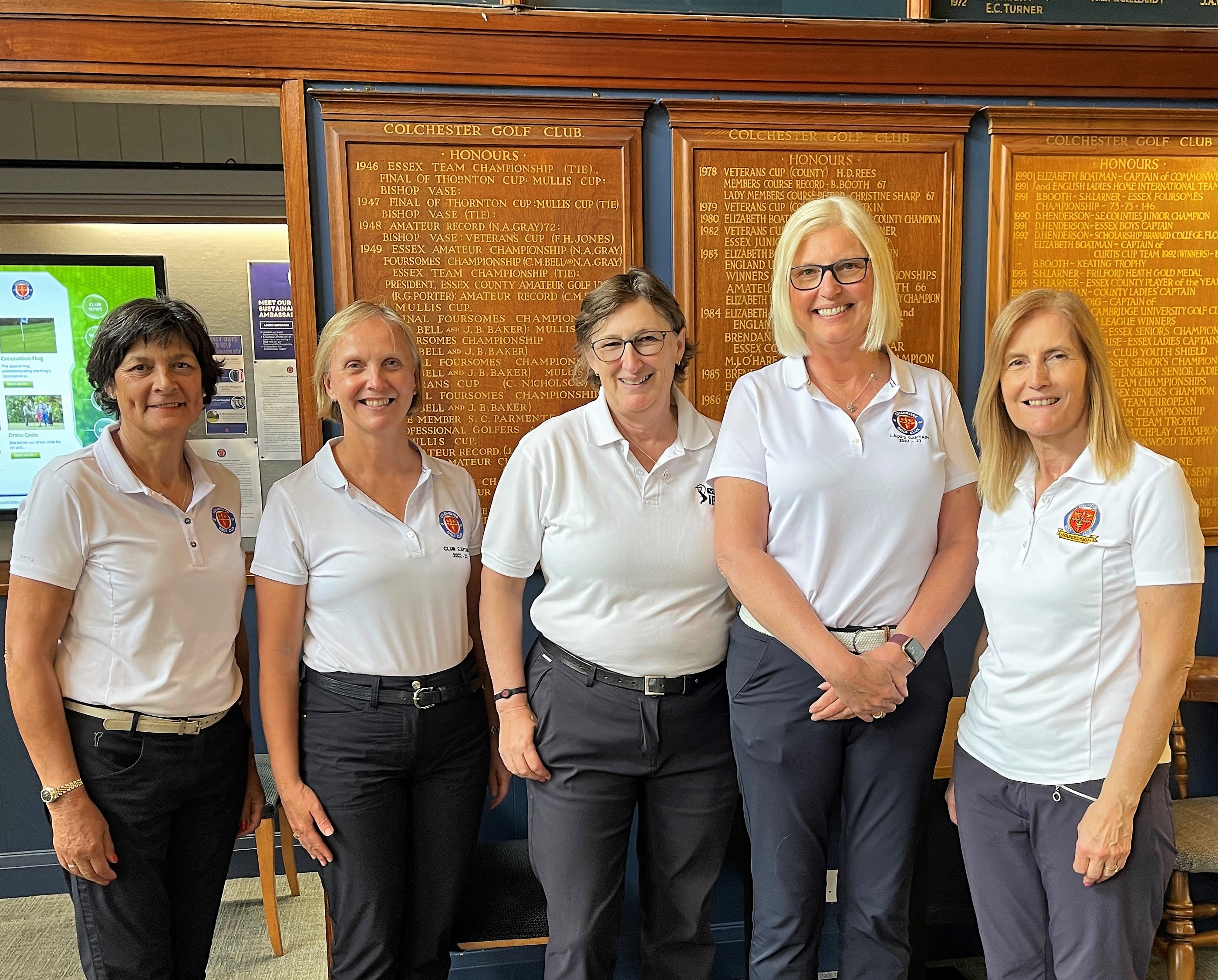 Leslie Wood Plate vs Hartswood
The men have completed their first match in the Leslie Wood Plate with a tight five-matches to three victory over Hartswood Golf Club.
Played with half the team at Hartswood and half at home Colchester. The Colchester team won three and one in the home leg of the tie and the away team halved 2&2 at Hartswood. The team's next round will be against Maldon in early June.
Ladies Morton Trophy
Caroline Hogan (29) heading the field with a handicap equaling level score in this bogey competition.
Carla Holroyd (27) recorded minus one to take second spot with eight handicapper Mandy Rix securing third with minus four. Caroline Chambers (22), Annie Johnston (17) and Philippa Deman (18) all returned minus five to take the minor placings.
Coronation Bank Holiday Texas Scramble
On the Coronation Bank Holiday the Club held a Yellow and Red Tee Texas Scramble with three teams returning gross 54s.
After the countback the team of Andrew Everett, Nick Gerrard, Paul Hamblin and Simon Moore were adjudged the winners over the teams of Barry Newman, Ian Newman, Jeremy Newman and Mark Schofield, and Tyan Christian, Jack Cross, Josh Stephenson and Matthew Stephenson.
Junior Golf Sixes
The Golf Foundations Junior Sixes competition has started again with us hosting Colne Valley, Frinton-on-Sea and Rivenhall.
The Junior Sixes Leagues run under the auspices of the Golf Foundation are an innovative playing format for juniors getting started in golf. Involving teams of 6, playing six holes in pairs using the highly inclusive Texas Scramble format. This format is designed for non-handicap juniors or of 37 and above.
Frinton won the day with a total of 124 points, Colchester were hard on their heels with 122 and Clacton and Rivenhall tied on a total of 117 points.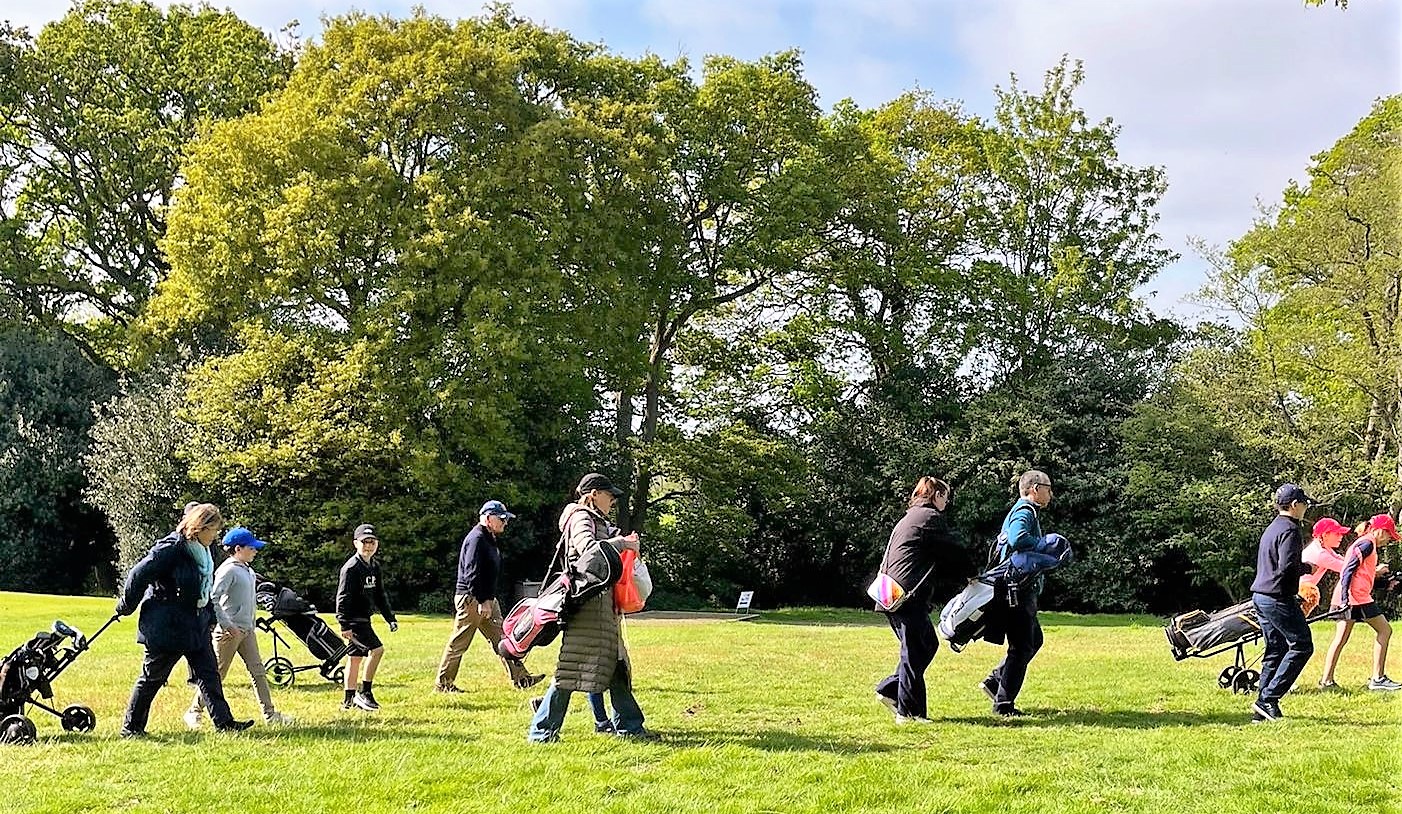 Men's Friendly vs Frinton
Last weekend our men played a friendly match at Felixstowe on a day with a strong breeze making golf, to say the least, interesting on the open links at Felixstowe Ferry.
Scoring on a cumulative hole basis, Hambro Style, we won by eight holes. A good result for using this popular fixture.
---
Upcoming Competitions
Elite Amateur Match vs Romford - Saturday 20th May
The 2nd game of the Elite Amateur League takes place this Saturday 20th May. The game is at home vs Romford GC and another strong side of
Alan Sharrocks
Phil Southern
Oliver Baker
Ed Mason
Oliver Allison
take to the course for us as we hope to secure a win before the 2 away games later in the season to complete the league.
Any support would be gratefully received
Turner Scratch Foursomes - Sunday 28th May
This rescheduled event is a scratch foursomes medal open to men, women and juniors. Played off the white and red tees this pairs competition is now open for sign up.
Jean Ingleton Salvers - Monday 29th May
Our 4th bank holiday event of the year - this is a Mixed Foursomes Stableford competition open to all members. Being foursomes, it is 50% of each pairs' combined handicaps, with halves rounded up. Men play from the white tees and ladies from the red tees. Maximum playing handicaps are 28 for men and 36 for ladies, juniors are not eligible. Don't forget to stay for our Bank Holiday BBQ after!
Rescheduled Competition! - Cystic Fibrosis Stableford - 4th June
Open to all, this individual Stableford is played from the white and red tees. Times are online now for booking, you can book your playing partners in at the same time. All proceeds from entry fees go to the Cystic Fibrosis Charity.
The Dick Procter Trophy - Saturday 10th June
This is a pairs competition - pairs can be any combination of men, ladies or juniors. Juniors must have one adult in their fourball. It is a fourball betterball Stableford event played from the white and red tees. Sign up opens on 7th May.
The Mike Ellis County Standard Silver - Sunday 11th June
This is a mens individual Medal and was first played for in 1984. Played off the white tees with a maximum playing handicap of 22 for men and a maximum handicap index for juniors to enter of 17. Open for sign up from 14th May.
Captains Day - Saturday 17th June
Following the success of last year's yellow ball Stableford competition, Alison's Captains Day is being played in teams of 4 with the best 2 scores to count per hole. There are nearest the pin and straightest drive prizes on offer with refreshments on the 11th tee. All members are invited, sign up opens on 15th May.
Cooper Bland Cup - Sunday 18th June
A mens individual Medal first played in 1910. It is drawn with no maximum handicap limit for entry but with a maximum playing handicap of 18. Sign up opens on 15th May. Played from the white tees.
Turner Cup Family Foursomes - Saturday 24th June
This is a foursomes competition open to pairs of any family combination. Juniors must play with an adult. Played from the white and red tees. The maximum playing handicap for men is 28 and 36 for ladies. Sign up opens on 21st May.